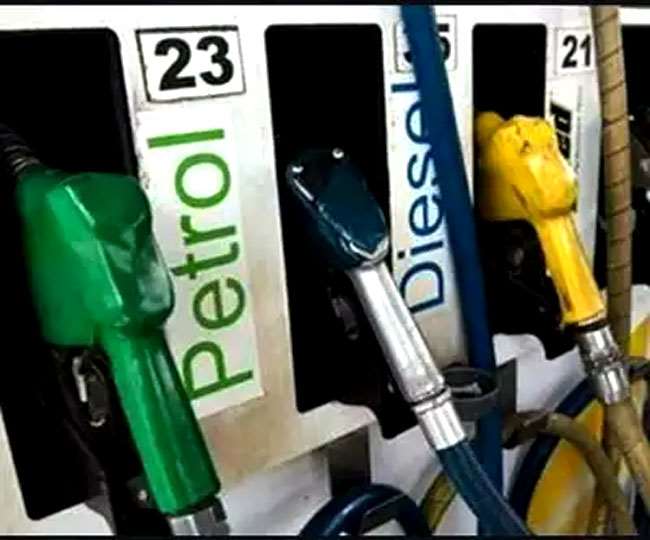 Jamshedpur 11th Oct 2021: Petrol diesel price in Jamshedpur Jharkhand is Rs. 98.88, and diesel costing Rs. 98.25 per liter on 11-Oct-21.
Petrol price has increased by 28 paise and diesel by 36 paise per liter as compared to yesterday. Excise and Jharkhand Taxes are included.
A price revision is applicable from 6:00 am every day across India.
However, the Petrol price in Jamshedpur is changed from Rs. 97.08 to Rs. 98.88 in the last 7 days and diesel rates are changed from Rs. 95.74 to Rs.98.25 in one week.
| DATE | PETROL PRICE / LITRE | CHANGE | PETROL PRICE / LITRE | CHANGE |
| --- | --- | --- | --- | --- |
| 11 October 2021 | ₹ 98.88 | ₹ 0.28 | ₹ 98.25 | ₹ 0.36 |
| 10 October 2021 | ₹ 98.60 | ₹ 0.28 | ₹ 97.89 | ₹ 0.37 |
| 09 October 2021 | ₹ 98.32 | ₹ 0.29 | ₹ 97.52 | ₹ 0.37 |
| 08 October 2021 | ₹ 98.03 | ₹ 0.28 | ₹ 97.15 | ₹ 0.36 |
| 07 October 2021 | ₹ 97.75 | ₹ 0.25 | ₹ 96.79 | ₹ 0.37 |
| 06 October 2021 | ₹ 97.50 | ₹ 0.23 | ₹ 96.42 | ₹ 0.37 |
| 05 October 2021 | ₹ 97.27 | ₹ 0.19 | ₹ 96.05 | ₹ 0.31 |
| 04 October 2021 | ₹ 97.08 | ₹ 0 | ₹ 95.74 | ₹ 0 |
Please follow and like us: